Our Museum
The "Camillo Golgi Museum" was established in 2012 at Palazzo Botta. It retrace the history of one of the most renowned biomedical research centers in Europe between the19th and 20th centuries, "the laboratory where you do every day a discovery ", as Paolo Mantegazza defined it.
---
The exhibition halls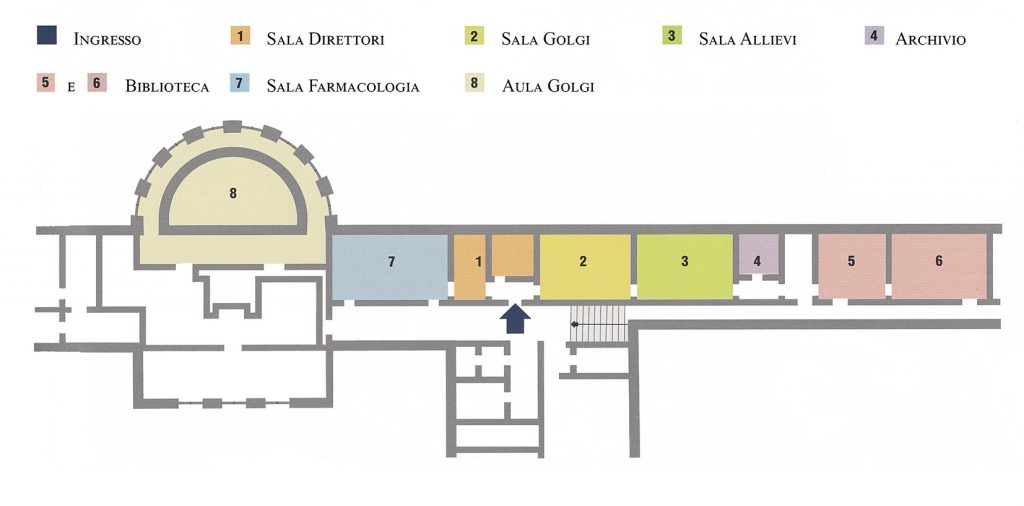 1 – The directors
The room is a reconstruction of the Director's office where visitors can discover the origin and developments of Camillo Golgi's scientific achievements going back over the professional and human stories of Paolo Mantegazza, Giulio Bizzozero, Aldo Perroncito, Emilio Veratti and Piera Locatelli, the first woman to manage the Institute. The presence of the original furniture helps to completely immerse yourself in the atmosphere of the time.
2 – Golgi's room
In the next room the most important discoveries of Camillo Golgi are reviewed: the black reaction, the important contributions in the research on malaria and the discovery of the internal reticular apparatus, which took place right in the Palazzo Botta headquarters. In addition to the most significant scientific publications, syringes, microtomes, microscopes, glossy cameras, original photographic plates of the histological preparations and a photomicrograph apparatus are on display. Some microscopes dating back to the year 1900 are placed on a late 19th century work table.
3 – The students' room
The last room is dedicated to some of Golgi's main students: Emilio Veratti, Adelchi Negri, Giovanni Marenghi and Aldo Perroncito, a charismatic figure capable of arousing great enthusiasm in the young researchers who started their frontier research on regenerations and transplants.
7 – Museum of History of Pharmacy
The museum also preserves the remains of the ancient Pharmacy History Museum. The preserved heritage, Even if the collection has greatly reduced compared to the original nucleus, it shows the great artistic references of ancient pharmacies' furnishings and tools.
8 – Golgi Hall
The historical charm of the museum is enriched by the presence of the finely frescoed classroom where Camillo Golgi gave his lessons and which – in his honor – in 1900 hosted the congress of the Anatomische Gesellschaft, the most prestigious anatomical society in the world.